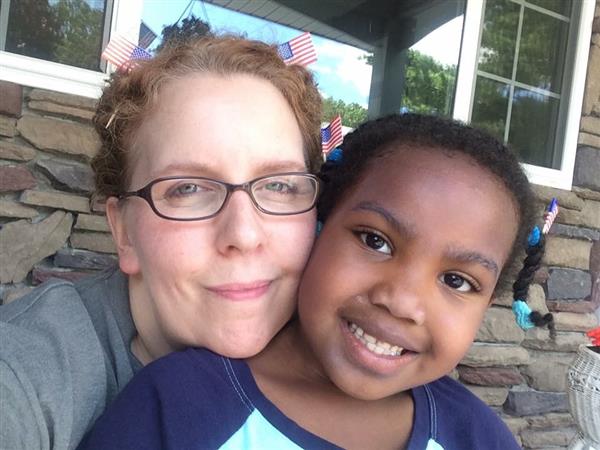 Phone: (734) 439-5149
Email:
Degrees and Certifications:
Ann Babcock, Speech-language Pathologist
Hello!

I have worked at Paddock Elementary since 2005. I provide speech-language support for kindergarten, first and second-grade students at Paddock. Special areas of interest include: aligning support with curriculum needs, articulation and phonology, alternative augmentative communication (AAC), autism spectrum disorders, and language development.

I am a wife and mother of three elementary age children. I enjoy volunteering as able with a local book club for young adults with intellectual differences, and at our local church. My three children keep me busy! Our Italian Greyhound, Vito, has previously been certified as a volunteer therapy dog, though I do not currently include him in therapy at school. I love to cook, and write in my free time.
"Listen to the mustn'ts, child. Listen to the don'ts. Listen to the shouldn'ts, the impossibles, the won'ts. Listen to the never haves, then listen close to me... Anything can happen, child. Anything can be." - Shel Siverstein

"The moment where you doubt you can fly, you cease for ever being able to do it. - Peter Pan

"A bird doesn't sing because it has an answer, it sings because it has a song." -Dr. Maya Angelou

"Each morning when I open my eyes I say to myself: I, not events, have the power to make me happy or unhappy today.

I can choose which it shall be. Yesterday is dead, tomorrow hasn't arrived yet. I have just one day, today, and I'm going to be happy in it." -Groucho Marx

"A career in speech-language pathology challenges you to use your intellect (the talents of your mind) in combination with your humanity (the gifts in your heart) to do meaningful work that feeds your soul...I am proud to be a member of what I consider the best profession on earth." -Megan Hodge
Degrees and Certifications
Master of Arts in Speech-language Pathology: Western Michigan University, 2001
Nationally certified (ongoing): American Speech-Language-Hearing Association (ASHA) Certificate of Clinical Competence (CCCs)
State of Michigan license (ongoing)
Working in Milan Area Schools since December, 2004
Supporting Paddock since September, 2005
PROMPT (Prompts for Restructuring Oral Muscular Phonetic Targets), 2010
Special trainings: numerous Alternative, Augmentative Communication (AAC) trainings; START (Statewide Autism Resourcesd and Training); PECS; Hanen Institute (It Takes Two to Talk; More Than Words)